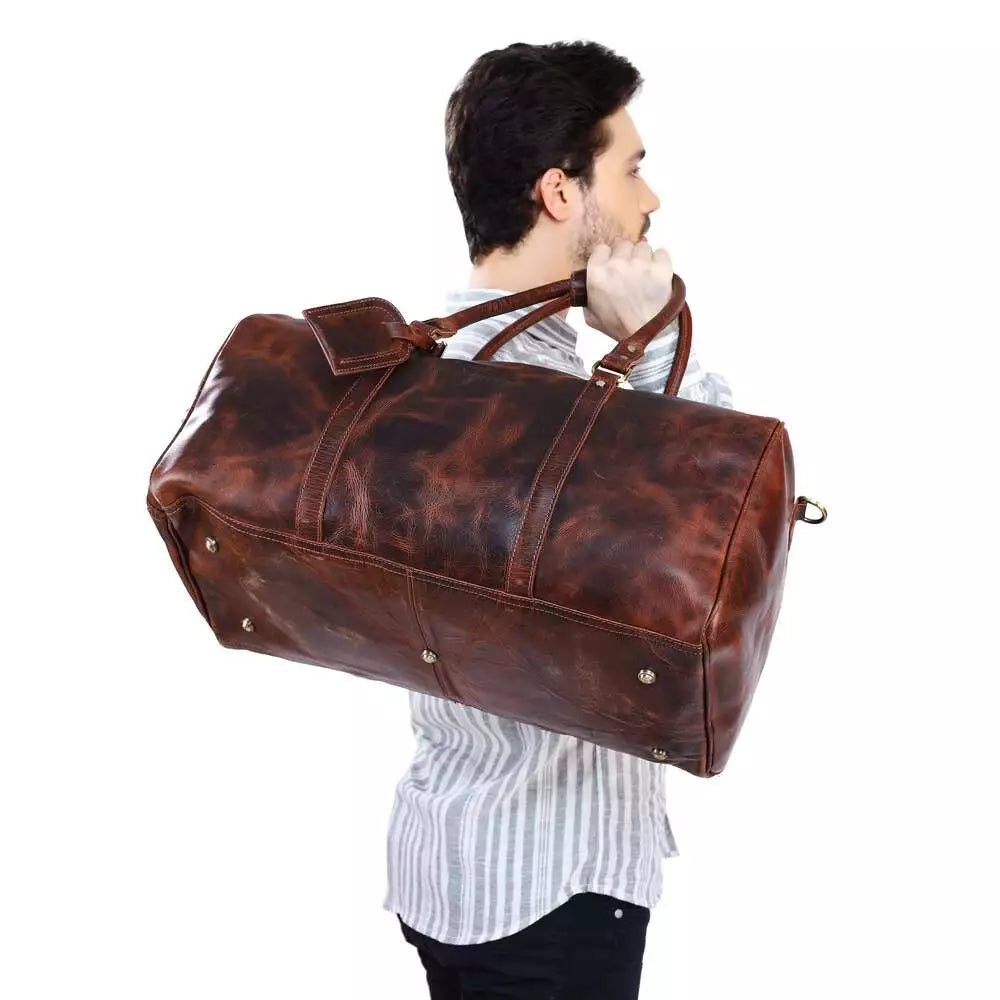 Leather Duffle Bag for Mens
For years now, so many distinct bag types have been emerging, with each having to change uses for different people who require different things.
A personalized men's leather duffle bag is no different in this regard; it is one of those. However, unlike many others, it is not something new and has been around for years. People have been using it throughout their journeys, and some are even familiar with its purpose. But since there are many other types, this personalized duffle bag was pushed back in the popularity scale. So, for a while, many users have forgotten that it even existed.
Such a drastic change happened because people couldn't go on short trips for various reasons, the most important of which is the recent pandemic.
Understandably, when people were locked in their homes, they had no use personalized duffle bags for him. Fortunately, with everything turning back to normal and everyone realizing the importance of taking a break once in a while, these bags have remerged.
Still, two years is a long time, and many users have probably even forgotten why they need personalized duffle bags groomsmen. Lucky for them and people who couldn't make up their minds about the type of traveling product they need, this blog will explain why personalized men's leather duffle bags are so popular and what advantages they offer.
There will also be comparisons to similar products like suitcases and what they lack.
Nothing but Comfort Nothing but Extra Space
The best thing about a personalized duffle bag is its different types. There are weekender bags, XL ones, and so on. Each of them offers different but great conveniences.
Depending on customers' needs, they can come in different sizes with distinct features, like an extra shoe compartment. For example, someone who likes to go to the gym frequently may need to change their shoes every time they finish.


Such features make personalized duffle bags for him perfect for different occasions. With such a product, they no longer have to bear the difficulty of carrying shoes around. Instead, everything, including shoes, can be put inside and moved around without any inconveniences whatsoever.


Someone who enjoys hiking, biking, snowboarding, and so on. They can all enjoy and take advantage of such a feature while getting no downsides in return.


Typically, suitcases also offer storage space, and such items can also be stored in them. But since they are not as portable and cannot be carried around with ease, people on holiday will most likely face issues and inconveniences regarding portability.
That's precisely where personalized duffle bags groomsmen differ
Many other things offer ample storage space, but that alone is not always enough. When customers search for a bag specifically for going on short trips, they will want to have no issues. 
Of course, some people may regard these issues as expected but considering there are ways to solve them before they become an issue, we believe people will understand why they should get a personalized men's leather duffle bag.
Indeed, getting this is not mandatory for enjoying holidays, but because of their extra features alongside ample space, these products make it easier. Plus, as said above, there are many different types of personalized duffle bags.
Meaning that even if customers do not want something big or extra shoe compartments, they can opt not to. Since, unlike suitcases, almost everything is optional, convenience can be provided the best with them. 
 Still, offering extra space in different sizes is not the only thing that personalized duffle bags for him offer. Many more conveniences cannot be provided by other similar or non-similar products. 
Some of those features, however, are unique to our brand and not common among them. All of the unique attributes provided by our brand are made only to increase the convenience of customers further. As such, customers should always check the product's features before they place an order. This way, they can ensure great benefits and never need another similar bag.
Better than Type of Portability
Old personalized duffle bags for him users already know about this aspect, and as such many have already probably made up their minds about size. But, new owners, who are new to them, might have difficulties deciding as a larger size is mainly associated with worse portability.
But no one has anything to worry about because the primary design reason for these products is better portability. Despite the increase in size, neither XL nor S will be less comfortable or convenient.
Customers who still worry about this part can check every feature a personalized duffle bag offers because by doing so, they can ensure that those features are included only for portability.
With that part is out of the way, users can now decide which size better for them. After all, since some aspects of these products do not change, people should choose the one that will benefit them by going through features included in different sizes.
Even though size does not affect portability, it does affect several attributes of a personalized men's leather duffle bag.
This is not something bad but rather good because this way, people with different needs can ensure they will benefit more without sacrificing anything. So, we urge customers to determine what purpose this personalized duffle bag will serve before purchasing so they do not regret it. 
With size and portability handled, customers now should look for quality because, without it, nothing truly matters about personalized duffle bags for him. Low quality will always cause more problems than users are willing to deal with.
Such inconveniences will probably render this product completely useless. Luckily, it is not hard to find personalized duffle bags groomsmen that offer good quality.
The only thing that customers should be aware of is that not every product provides the same quality, and avoiding possible problems require some effort in searching and researching. Still, believing a remark might make this process easier for customers, we included some final words about quality in our next title.
Full-Grain Leather for Great Durability
Personalized duffle bags for him are pretty popular. Still, this popularity is not always good because it leads to more brands manufacturing them with varying qualities. Such a situation makes it harder for customers to decide.
However, by understanding several simple aspects, everyone can avoid possible problems. Most of those aspects are discussed in our previous writings, including full-grain leather. But since the material is the primary quality determiner for a personalized duffle bag. We want to mention it once more so that no one encounters any issues with their products in any way anywhere.
Many material types are used for manufacturing a personalized men's leather duffle bag, but leather is used the most.
Customers are generally misled by "leather" because most assume it to be an automatic quality guarantee. However, this is not the case, and before purchasing, everyone should first look for one thing: the type of leather.
Depending on its type, leather can be quite durable but also very fragile. There are many types, but customers should always look for top-grain or full-grain leather. Full-grain always provides the best quality and is entirely natural, and top-grain has lower durability and is not fully natural.
Still, compared to other types, these do not share all those durability-related problems that low-quality materials have. In short, personalized duffle bags groomsmen must be made of full-grain leather or top-grain; in any other case, users will probably face issues.